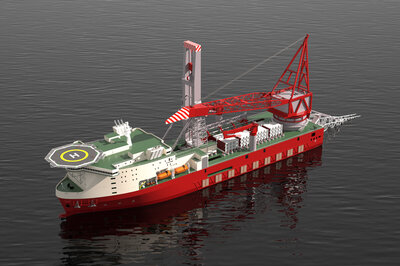 JSD 6000
The heavy lift pipelay vessel, 'JSD 6000', is a customised ULSTEIN SOC5000 design. The 215m long DP3 vessel is equipped with a 5,000t revolving main crane and will be cable of performing J-lay and S-lay pipelay work in max water depths of 3,000m.
Additional Data
NOV revolving main crane, lifting capacity
5,000
Remacut S-lay system via centre firing line below main deck
600
IHC EB J-lay system via moonpool
2,000
Note: Specifications may have changed since the original completion date.
Ship history
In January 2014, Sharjah-based Petrofac ordered the Petrofac JSD 6000 deepwater derrick lay vessel, a customised ULSTEIN SOC 5000 design developed by Ulstein Design & Solutions B.V. The ship was contracted to the Shanghai Zhenhua Heavy Industries Company (ZPMC) shipyard. Petrofac terminated the construction contract with the yard in October 2015.
 
The design features an NOV revolving main crane with 5,000 mt lifting capacity. But what makes this vessel truly unique is the combination of a 600 mt Remacut S-lay system via a centre firing line below main deck, and a 2,000 mt IHC EB J-lay system via a moonpool. This double-deck configuration, a distinctive feature in Ulstein Design & Solutions BV's designs, allows for a large, unobstructed deck area and below-deck pipe fabrication.
 
The combination of heavy lift and S-Lay capabilities together with J-Lay functionality via a large, off-centre moonpool, allows the vessel to serve deepwater and SURF markets as well as shallow-water EPCI projects.
The JSD 6000 vessel is the third customised version of the ULSTEIN SOC 5000 design after the 'Seven Borealis' and 'Aegir', both in operation.
24 April 2018: Petrofac signed an agreement to sell the JSD 6000 deepwater derrick lay vessel project to ZPMC. Petrofac will provide technical support for the construction of the vessel.
21 October 2020: Assembly of the two half-hull sections
27 December 2020: The JSD 6000 was launched at the ZPMC Qidong shipyard. After 18 months of hard work and dedication of all team members and other parts involved in the project, the vessel construction activities will continue at the ZPMC Changxing base to complete the installation of the J-lay and S-lay pipelay systems and the 5,000-tonne revolving main crane.
2023, May update: The JSD 6000 has successfully completed her sea trial. She is now in the process of testing the mission and pipe lay equipment.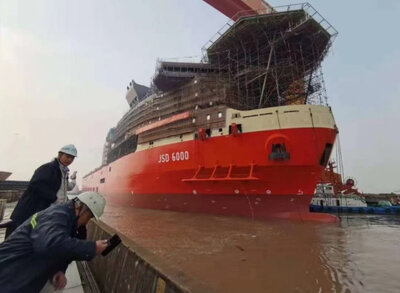 July 2021: The JSD 6000 is scheduled to complete sea trials and be delivered in early 2022. She can carry out J-lay and S-lay pipelay work and install pipelines of 6 to 60 inches in diameter in maximum water depths of 3,000 m. The newbuild will also have an accommodation capacity for 399 persons.
December 2022: The 'JSD6000' commenced sea trial in December 2022.