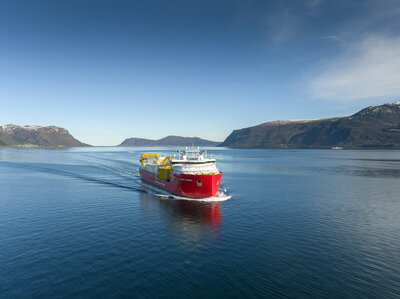 Nexans Aurora
A DP3 cable laying vessel, outfitted for power cable laying, including bundle laying, cable jointing and repair and cable system protection and trenching. The vessel is developed for operations in rough weather and has high manoeuvrability and station keeping capabilities.
Owned By
Nexans Subsea Operations
Operated By
Nexans Subsea Operations
Note: Specifications may have changed since the original completion date.
Classifications:
DnV+1A,
CableLayingVessel,
E0,
SF,
NAUT(AW),
Clean(Design),
SPS,
DYNPOS(AUTRO),
COMF(C3)(V3),
Strengthened(DK),
ICE(C),
BIS,
BWM(T),
VIBR,
Silent(E),
Recyclable
The vessel plays a vital role in the installation of Nexans' cutting-edge HV submarine cables that will bring more energy to the world, helping connect offshore wind farms to the grid, supporting electrification of offshore petroleum installations and creating interconnectors between countries.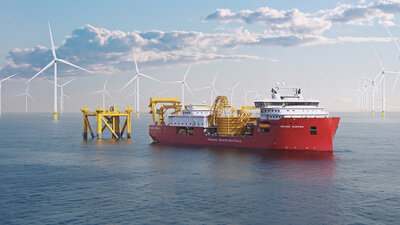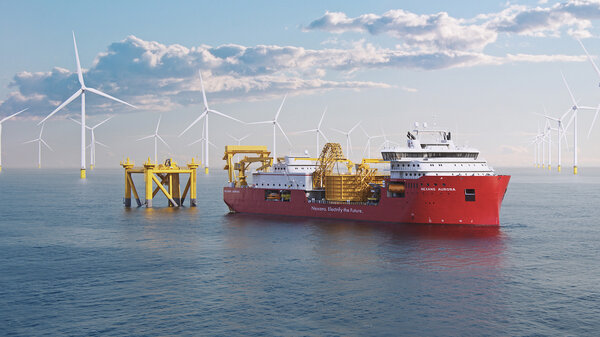 Ship history
Milestones
4 July 2018: Nexans Subsea Operations has signed a shipbuilding contract with Ulstein Verft to construct a large, DP3 cable-laying vessel for delivery in 2021.
18 February 2019: Steel cutting
24 April 2019: Keel laying
15 June 2020: Hull arrival Ulstein Verft 
8 November 2020: Launch from the dock hall
Nov 2020-May 2021: Various shipbuilding and installation activities 
May 2021: Sea trial
31 May 2021: Delivery
8 June 2021: Naming
In March 2021, Nexans announced the signing of a preferred supplier agreement with Empire Offshore Wind LLC to electrify the future of New York State by connecting the Empire Wind offshore projects to the onshore grid. The project will deliver renewable energy to over one million homes. Christopher Guérin, CEO of Nexans, said: 
We are excited to be a trusted, long-term supplier on the development of the Empire Wind projects and to participate in placing New York State on the way towards reaching 70 per cent of its electricity needs from renewable sources by 2030. This partnership demonstrates the value of our unique end-to-end model and supports our investments in U.S. offshore wind and the new state-of-the-art Aurora cable-laying vessel.
In 2022, Nexans Aurora was one of three Ship of the Year nominees.
2023, March: Nexans announced the completion of the final pull-in of the subsea interconnector cable between Crete and mainland Greece. 
"The energy isolation" of Crete will soon be over! We recently completed the last pull-in of the subsea interconnector cable between the island and the Greek mainland in one of the top 5 of the most innovative interconnection DC projects in European history, 
the company reported. The project will provide security of supply for the island and enable the transition from fossil fuel to wind and solar energy. The interconnection is scheduled to come online in 2023.