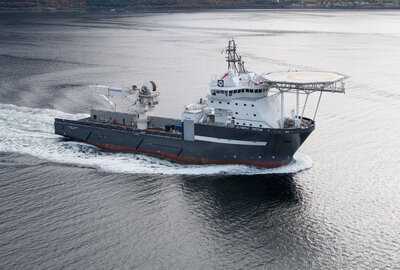 Olympic Triton
A multifunctional subsea vessel with a large deck area and large cargo capabilities for most operations. The vessel is equipped with a 150t AHC offshore crane, ROV hangar, large moon pool, helideck and can accommodate 100 persons. It has diesel-electric machinery which ensures low noise levels and low fuel consumption.
Owned By
Olympic Subsea ASA
Operated By
Olympic Subsea ASA
Note: Specifications may have changed since the original completion date.
Classifications:
DnV1A1,
SF,
E0,
ICEC,
DYNPOS-AUTR,
LFLFuelled,
CLEAN,
COMF-V(3),
HELDK-SH,
DK(+),
HL(+)
Ship history
Delivered on 25 October 2007 and named "Olympic Triton" on 26 October. The ship was delivered ahead of the contract date. After the name giving ceremony, the ship entered into a three-year contract to Canyon Offshore. 

The yard had delivered two similar ships to Olympic Shipping earlier. Because of the positive feedback on those ships, Olympic chose a similar vessel, but further developed into a larger version. A sister vessel, the 'Olympic Intervention IV', was also ordered.
The ship was prepared for a tower and a 150-tonne A-frame on the stern. It can accommodate 100 persons for its underwater operations, but the permanent crew numbers about 20 persons. 
 
Milestones
Olympic Shipping was restructured as Olympic Subsea ASA in 2017.

End May 2019: The vessel has been awarded a 12-month contract with further options in West Africa for an international oil company. The vessel has been equipped with a gangway system.
February 2023: Reach Subsea has been awarded a 6 months plus options contract from a major renewable energy company for delivery of offshore wind related services. In order to be able to serve this contract, Reach increases vessel capacity through a charter contract and a corresponding option arrangement with Olympic Subsea for the multifunctional subsea support and construction vessels Olympic Triton.

"The market for subsea services is strong and Reach Subsea has recently taken significant steps in order to secure increased and cost-efficient vessel capacity for the coming years. The Olympic Triton is a modern and versatile vessel which will be an important add-on to our fleet. The structure of the contract implies limited risk and a good upside for Reach and our partners," said Jostein Alendal, CEO of Reach Subsea.
Olympic Triton is a versatile multipurpose supply vessel (MPSV) with a 150 tons crane and a large accommodation and deck capacity. The charter has a duration of 6 months plus options, matching the duration of the contract with our renewable energy client. Further, Reach has an option to extend for another 3 plus 2 years within a 4-week period from signing. Olympic Triton will be delivered to Reach Subsea in Q1 2023 in conjunction with start-up of the renewable energy contract. The added capacity comes with a limited risk and significant upside for Reach Subsea, and includes an element of profit sharing.
2023: Still active - IMO 9383754