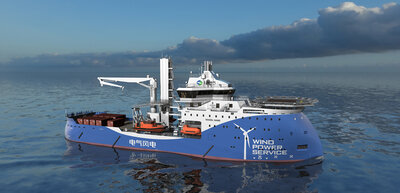 SE TBN I
Service Operation Vessel (SOV) for the offshore wind industry in China. Based on the ULSTEIN SX195 design, featuring the X-BOW and X-STERN for soft motions and increased comfort.
Owned By
Shanghai Electric Windpower Group
Operated By
Shanghai Electric
Additional Data
Fuel oil, cargo & domestic
550
Note: Specifications may have changed since the original completion date.
Classifications:
SPS,
In-WaterSurvey,
HelicopterFacilities,
CSMAUT-0,
DP2,
G-ECO(BWM(T), NOI1, VIB1),
G-EP(GPR, OIL1, RSC1, AFS),
Hybrid,
CSAOffshoreEngineeringSupportShip