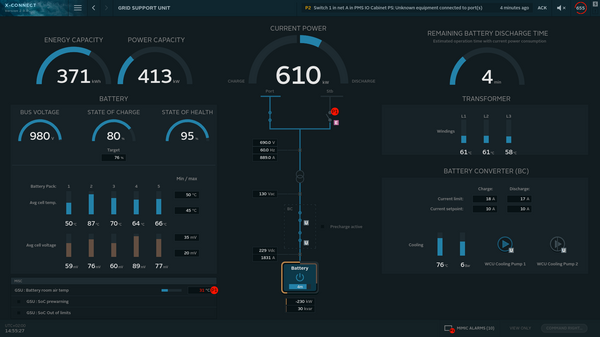 Energy Management System (EMS)
The Ulstein EMS is an Energy Management System that caters to vessels of all sizes. Whether operating a small craft or a large ship, the Ulstein EMS is built to handle your power management requirements efficiently. With its modern design, scalability, and flexibility, the Ulstein EMS perfectly fits your vessel's needs. Upgrade your vessel's energy management capabilities today with the Ulstein EMS.
Key benefits ULSTEIN ENERGY MANAGEMENT system
Full control

over hybrid power systems with an exceptional user interface

Enables optimal usage

of power generation and energy storage for reduction of fuel consumption while ensuring power grid stability

Flexible and scalable

with regards of power sources

Increase safety

by using energy storage a reliant backup power source

Fully integrated

with X-CONNECT®

Reduces wear and tear

on equipment, as well as local particle pollution

Easy to set up

and manage to meet desired results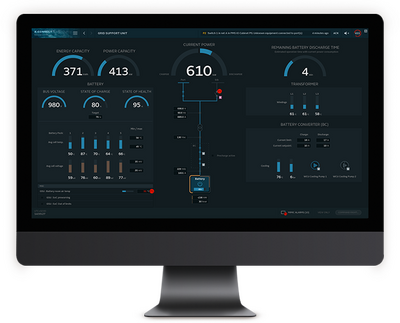 Enhance vessel safety and efficiency with the Ulstein Energy Management System
As the awareness and need for sustainable ship operations increase, interest and demand for hybrid power systems for ships are growing. ULSTEIN EMS is a modern Energy Management System based on the X-CONNECT® platform for managing power systems that combine traditional power generation with electrical battery storage.
ULSTEIN Energy Management System is flexible and scalable and can handle simple and complex power systems for small and large vessels. The EMS manages electrical power generation and energy storage to minimize fuel consumption while ensuring power grid stability and safe operations.
The ULSTEIN EMS is an integrated and seamless part of the X-CONNECT® platform, accessible from the same user-friendly interface as other X-CONNECT® products. The EMS integrates with ULSTEIN PMS and the most modern electrical battery storage systems. The system applies to both hybrid and battery-only powered systems. Further, the system integrates and synchronizes with ULSTEIN PMS, switchboard cells, battery converters and management systems.
ULSTEIN EMS includes several features for charging and discharging one or several batteries and controlling battery connection to the ships' power grid or shore power. The system manages peak shaving for relieving load variation on generators, load smoothing for shaving variations from load average and the use of batteries as a spinning reserve to avoid blackout if power generation fails. All features are configurable to meet the ship operator's requirements and desired results.
The ULSTEIN EMS meet different requirements from customers and class societies. Topology and hardware flexibility minimize system installation space, hardware usage and location.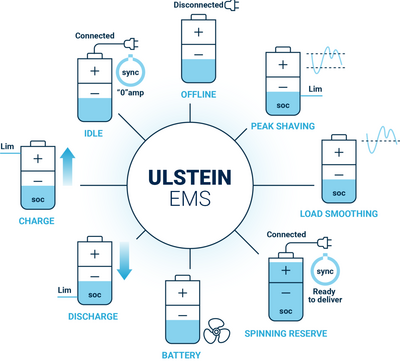 Features
In peak shaving mode, the EMS relieves load variations on generators and diesel engines using battery power for the load peaks. Batteries have faster dynamics than generators and can handle sudden loads better than generators. Peak shaving saves wear and tear of generators, stabilizes the power grid and reduces fuel consumption. Peak shaving can operate in conjunction with the spinning reserve feature.

With the EMS, the operator can manually set the battery system to offline mode. In offline mode, the battery system disconnects from the power grid.

With the EMS, the operator can manually set the battery system to idle mode. In idle mode, the battery connects to the power grid, but the battery does not supply or consume any power. Default mode after start-up is the Idle mode. Idle mode is also typically entered when switching between different EMS modes.

In the EMS, the operator can manually set the EMS to charge or discharge the batteries.

In battery mode, the battery is the power source for operating the vessel. Battery mode can be useful for different ship operations and circumstances. It could be a requirement using batteries in vulnerable areas where particle emissions are forbidden. For vessels that can run a battery-only operation without charging such as shorter ferry crossings, harbour areas, or service vessels in aquaculture battery mode can be enabled.

In load smoothing mode, the EMS relieves load variations from generators and diesel engines on load average using battery power for the average load peaks. Load smoothing is a variant of peak shaving used when there is a large hysteresis in the power system. The battery will then be used earlier than in peak shaving to relieve the load on the generators.

In spinning reserve mode, the battery is connected to the power grid and will act as a reserve power source. Spinning reserve mode is by default operating in idle mode with no power delivered or consumed by the battery. If other power sources on the power grid fail, e.g. a generator stops working, the batteries will instantly provide energy to meet the power demand. Spinning reserve is useful for DP vessels where closed bus operations are allowed. A battery bank as a spinning reserve, instead of a running generator on low load, reduces both fuel usage and machinery wear.

State Of Charge compensation (SOC), or load levelling, is an integrated feature in the EMS that ensures that the battery always has the necessary power available in spinning reserve.
Ulstein Energy Managment mimics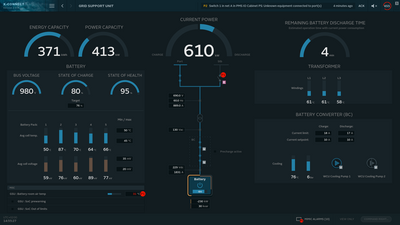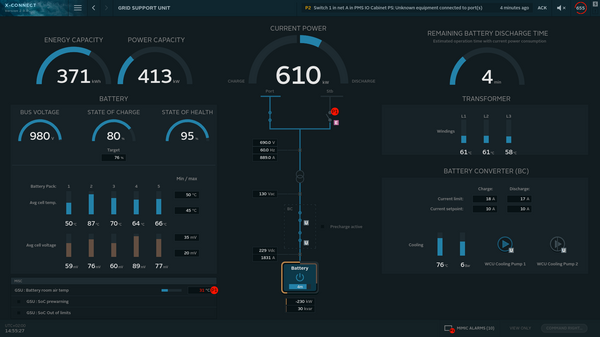 EMS GUI - Grid support unit
ULSTEIN AUTOMATION solutions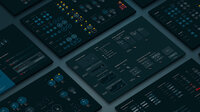 System integration
Cutting-edge solutions that optimise vessel performance and enhance operational efficiency.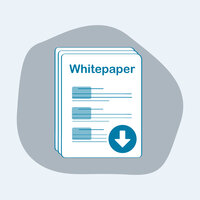 ULSTEIN ENERGY MANAGEMENT
Prepare your ship for a digital future with a 
ULSTEIN ENERGY MANAGEMENT system.
Get your whitepaper (registration required). 
Get in touch

Rolf Ottar Rovde
Description

Sales Manager

Affiliation

Ulstein Power & Control AS

Peter Pilskog
Description

Managing Director

Affiliation

Ulstein Power & Control AS