The demand for data analytics tools for marine applications ? including decision support and fuel consumption monitoring ? is growing, and cloud capabilities are an essential part of these. Ulstein holds a focus on alternative fuels, reduced emissions, the optimisation of operations and reduced energy consumption. One such implementation is the Ulstein Blue Box, a digital tool to make ships safer, smarter and greener. The Ulstein Blue Box provides easy access to the ship's big data with an encrypted connection and efficient bandwidth.
Golden Energy Offshore (GEOFF) took delivery of two Ulstein designed offshore vessels in 2019, the 'Energy Empress' and the 'Energy Duchess'. The vessels are competitive and energy-efficient, with very low fuel consumption during operations. Delivered as Platform Supply Vessels, their flexible design makes them easy to retrofit and make use of in new markets like the offshore renewable industry.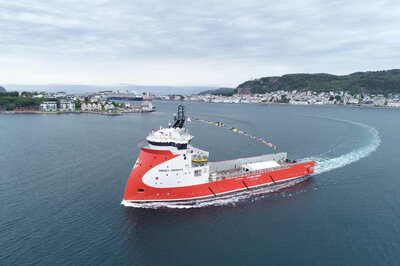 "We have been ISO 50 001 (DnV Energy Management Standard) certified for the past seven years. An offshore vessel is a complex unit with many sources of energy consumers and providers, thrusters and engines, and it is defined very clearly in the ISO 50 001 what we shall measure. The data is taken out via the IAS (Integrated Automation System) and the PMS (Power Management System) into the Blue Box, consolidated and treated so we can get it out on a very easy, understandable screen," explains Per Ivar Fagervoll, CEO at Golden Energy Offshore.
He continues: "The Blue Box is easy to operate and understand and helps us to save energy, identify the waste energy and also to reduce the unnecessary use of running equipment which, at the end of the day, has a life cycle and cost impact".
Reached its goal of 10% reduction
"The Blue Box also helps us if we should work on a certain charter. We can put together a green budget and will after a while be able to monitor our performance. Throughout our fleet, we have a target of a 10% fuel reduction by reducing and identifying the possibility to save energy and operate in a different way. This also applies to how we trim the vessel is, the cargo and ballast, and everything from the propeller polishing to the anti-fouling on the vessel, There are a lot of elements impacting this but we have managed to reach our goals throughout our fleet".
Lars Ståle Skoge, commercial director at Ulstein Design & Solutions, is commenting: "Ulstein is moving in the right direction when it comes to reduced emissions by optimising design, system efficiency, solutions adapted to the operation; all monitored and supported by the Blue Box".
Ulstein Blue Box is a simple solution for connecting a ship's data system to the cloud. It is a vendor-independent hardware cabinet that is simple to set up and can be installed on any ship.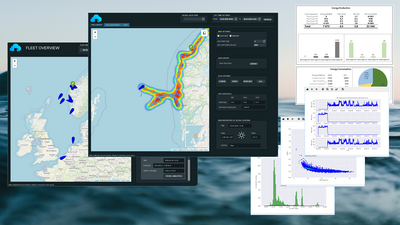 The solution allows ship operators to receive direct information about conditions such as engine setup, speed or ballast. The data analysis provides a direct response to whether the ship is being operated optimally, and if not, the ship operators automatically receive recommendations for improved results.
The system offers great potential for fuel savings and reduced emissions, as well as for safer marine operations through data-driven decision making.