The Ocean Albatros has a length of 104.4 m and a beam of 18.4 m, and accommodation for 199 passengers. The Ocean Albatros holds a total of 95 comfortable staterooms and suites, all with unobstructed sea views, and most with their own balcony. The vessel is small enough to give an exclusive atmosphere yet large enough to yield all expected services and facilities.
The U.S.-based SunStone Ships decided on the CX103 designs from Ulstein Design & Solutions AS for their first Infinity Class vessels in 2017. Since then, the Greg Mortimer, the Ocean Explorer, the Ocean Victory, the Sylvia Earle, the Ocean Odyssey, and now, the Ocean Albatros, have been delivered to the Owner. The vessels are on long-term charters for various operators.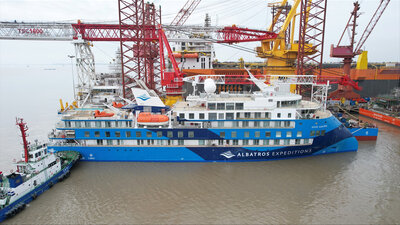 Ocean Victory's sister ship, Ocean Albatros, is now fully underway to join the Albatros Expeditions fleet and to kick off its inaugural season in the Arctic in June. Photo: Albatros Expeditions.
First to introduce the X-BOW in cruise vessels
The SunStone Ships were the first in which the proven X-BOW hull was introduced for use in cruise ships. The vessels have low emissions due to a combination of power system and ship design.
A seventh vessel in this series will be delivered in 2025.
The Ocean Albatros
The Ocean Albatros will operate in both Antarctica and the Arctic and on cruises between these core expedition areas.
The vessel complies with Polar Class 6 (ICE 1A*), has a Polar Code Category B and is built with Safe Return to Port, Dynamic Positioning and Zero Speed Stabilizers.
Like her sister vessel, the Ocean Victory, the vessel has two restaurants, a wellness area, an Albatros Nordic Bar, an open deck dining facility, a modern lecture lounge, and other state-of-the-art amenities. Unlike the Ocean Victory, the Ocean Albatros will also offer a unique panorama sauna and a total of 12 dedicated solo travel cabins.
Reduced carbon footprint
The X-BOW hull reduces the pitch/heave accelerations and speed loss in waves. Together with the Tier3 engines, this result in significantly lower fuel consumption and, thus, reduced emissions.
The X-BOW design feature improves the on-board comfort in head seas, as it helps to reduce slamming and resulting vibrations. The vessel can thus keep up speed in adverse weather to get quickly through the harshest stretches of waters.