Different fishery regions and species can reward different harvesting methods that will have an influence on the vessel's configuration. Also the quota regimens are important to take into consideration in the vessel design phase. Whether the vessel operates in an "Olympic" quota arrangement or has a "total allowable catch (TAC) quota" will have an effect on how the vessel is optimised to create the largest added value for the owners.
These elements are integrated into the vessel business case development process carried out by Ulstein when developing a new vessel design.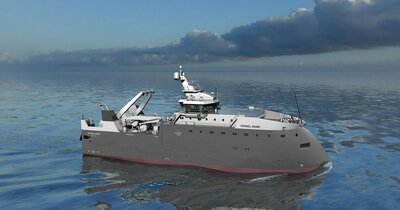 What are the optimal arrangements and layouts to suit the dual needs of trawling operations and transits?
By analysing the operational data we find that demersal trawlers catching whitefish and shrimp in northern Europe spend most of their operational life, typically between 50 % and 70 % of the time, trawling at speeds between 3 and 5 knots. With newer vessels employing ever larger gear requiring higher towing forces, various solutions can be considered that will balance the requirements for efficient trawling operations and the transit to and from the fishing grounds. Various alternatives for the propulsion arrangement, hull designs and vessel logistics layout are considered to achieve the best possible solution.

Long-distance transits
A solution appropriate for one vessel may not be applicable to all. Vessels operating in other regions, for example those catching Alaskan pollock, have an alternative operational profile that requires a different design strategy. Contrary to most trawlers operating in northern Europe, those operating in Alaskan waters perform very long sailings to get to their fishing grounds, in many cases over 2,000 nautical miles. The same applies to European stern trawlers operating in South America or West Africa, where the vessels could face transits of over 5,000 nautical miles. The design of such a vessel requires a solution that is more suitable for transit operations, as they can represent as much as 40 % of the time the vessel is in operation.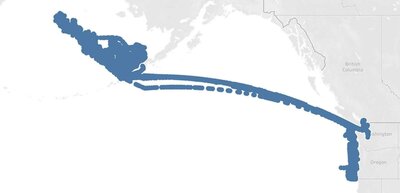 Fishing in rough waters
Fishing grounds in the Barents Sea, Greenland, Alaska or the south-western Atlantic are characterised by their harsh environments. It is common that the vessels continue fishing even in waves above 4 metres, while many other ship types would have aborted their operations. Because of this behaviour, the seakeeping performance of the vessel plays a critical role. Taking into consideration the environmental conditions of the regions where the vessel will operate (waves, wind, currents and ice conditions) is essential in the early phases of the vessel design process. Operational data analysis assists in quantifying how often a vessel will be exposed to a certain seastate and helps guide design decisions. A stern trawler operating in Alaska will, for example, experience sea conditions above Beaufort 5 (waves above 2 metres Hs and wind above 8 m/s) approx. 50 % of the time.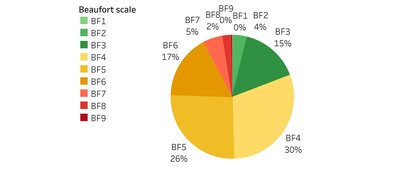 The ULSTEIN X-BOW® is a highly beneficial design element for improving the effectiveness of factory stern trawlers. It provides much improved seakeeping behaviour to the vessel during both trawling and transit operations, decreasing vertical accelerations and overall providing smoother vessel motions. This increases the operability of the vessel compared to conventional bulbous bow vessels and increases comfort levels for those working on board.
Being able to continue fishing in harsher weather adds to the revenue of a trawler fishing under Olympic quotas and provides vessels under TAC quotas greater flexibility to harvest their quotas when catches are good.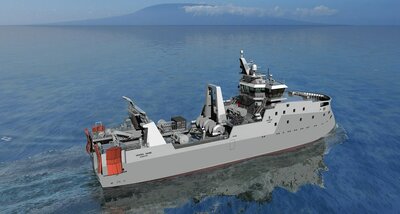 During steaming to and from fishing grounds, the X-BOW® also contributes to lower fuel consumption. Tank test results indicate power demand reductions in the range of 7 % to 8 % for similarly sized Platform Supply Vessels operating between 6 to 16 knots.
The shape of the bow eliminates slamming and minimises green sea on deck, resulting in more consistent speeds with less abrupt decelarations and energy-demanding accelerations. Furthermore, the shape provides more consistent water lines over a large variation of draughts, making for a more consistent transit performance between an empty vessel and one with freezing hold full of fish.
Operational data and experiences are very useful when developing new vessel designs. If you are interested on exploiting the value of it, contact us to start the development of your next generation stern trawler.