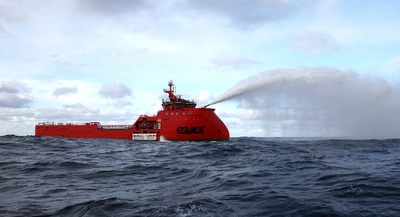 Esvagt Aurora
ESVAGT's multi-role ERRV vessels are flexible and support the offshore oil & gas industry with a number of highly specialized services as a supplement to the ERRV functions: Anchor handling; Rig moves; Emergency towing; Cargo runs; ROV inspections and surveys; Barge work; Oil spill response and Fire-Fighting.
Note: Specifications may have changed since the original completion date.
Ship history
IMO Number: 9594042
2012: Delivered as a standby vessel with the main purpose to give immediate assistance to offshore platforms in emergency situations. The Esvagt Aurora can operate as a standby/rescue vessel for 320 survivors. She is specially adapted to the harsh climate of the Barents Sea north of the Norwegian/Russian mainland and south of the Arctic Ocean. Operating for Eni Norge AS.
 
The Barents Sea is cold all year round and during the winter season, it is deprived of daylight for most of the day. The vessel integrates the last technological developments for the launch and recovery of rescue boats, de-icing equipment to avoid ice accretion on decks, as well as pollution control gear, fulfilling the highest standards required by the Norwegian authorities for this type of vessel. The vessel can perform high sea towage tasks and is fitted with a duplex dynamic positioning system that allows it to maintain position, even in adverse conditions such as hurricane-force winds and rough seas. This feature also enables the Esvagt Aurora to operate ROVs in deep seas, regardless of weather conditions.
The vessel and its equipment fully comply with the ?Clean Design? environmental class notation, in particular regarding emissions. It has also achieved a high DnV Comf-V notation due to low noise and vibration levels.
In 2013, Zamakona Yards received the 'Best Spanish ship built in 2012' Award for 'Esvagt Aurora'. The Award is established by AINE (the Association of Naval Architects and Marine Engineers in Spain).
In 2014, the vessel appeared on the Discovery Channel in the series ?Ultimate, Massive Ships?.
2016: The vessel received the ENI Safety Award 2016 for rescuing an engineer who fell from the semi-submersible rig, the Scarabeo 8, into the icy sea 13 metres below. The incident happened on the morning of 20 February 2015. The man was rescued from the water four minutes after the alarm was sounded and taken on board the 'Esvagt Aurora' after a total of just six minutes.
2020: The vessel tests its emergency response and equipment in an acute situation after a fire broke out at the Melkøya Gas Processing Station outside Hammerfest. Both crew and equipment delivered a most professional and emphatic performance.
2021: Eight years of service on the Barents Sea have demonstrated that the 'Esvagt Aurora' is ideally suited to working in Arctic regions. The vessel and its crew have saved lives and even extinguished a fire on land. Read story from Esvagt.