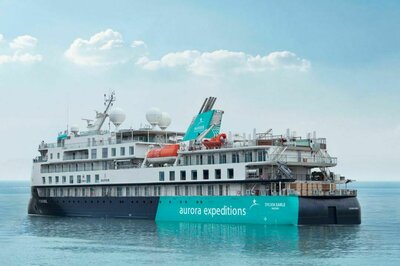 Sylvia Earle
An expedition cruise vessel of the ULSTEIN CX103 design. Designed with the X-BOW® hull, the vessel will provide the best possible comfort for passengers in rough head seas, as well as being fuel efficient.
Owned By
SunStone Ships Inc
Operated By
Aurora Expeditions
Note: Specifications may have changed since the original completion date.
Classifications:
PolarClass6,
ICE1A*,
+HULL,
+MACH,
PassengerShip,
POLARCAT-B,
INWATERSURVEY,
Comf-Noise-Crew3,
CLEANSHIP,
AUT-UMS,
MON-SHAFT,
LI-HG-S2,
SEEMP,
UnrestrictedNavigation
Ship history
Milestones
Contract signing: 2018
Ship name decision: Jan 2020
Steel cutting: Mar 2020
Keel laying: July 2020
Launch: Mar 2021
Sea trial: Oct 2021
Delivery: 22 Oct 2022
Aurora Expeditions' review of the vessel:
In addition to excursions for hiking and honing wildlife photography skills, there?s plenty to do onboard the Sylvia Earle, which features state-of-the-art perks like an ocean-view sauna, a quiet library for reading up on Antarctic history, and stately lounge and deck areas for taking in the views. Thanks to the ship's revolutionary bow design, seasickness is also likely to be less of an issue.