Guo Hai Min Qiang is the most recent delivery, on 1 May 2021. All vessels are of the PX121 design series from Ulstein, expanding the number of vessels in operation of this design to 24, with 6 more under construction.
The shipbuilding company, Shanghai Waigaoqiao Shipbuilding (SWS), is a subsidiary to China State Shipbuilding Corporation (CSSC). In 2017, the four PSV newbuilds under construction were transferred to Tianjin CSSC CCB Investment Management, an asset management company also subsidiary of CSSC. Now, all four vessels are operative under Chinese flag and classed by China Classification Society.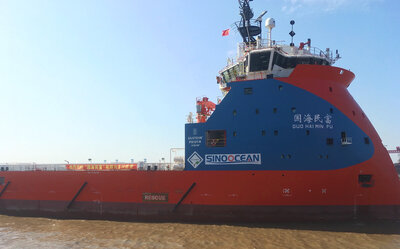 In addition to PSV duties, the vessels are also prepared to perform additional activities, featuring an increased accommodation for up to 30 people and provisions for crane and ROV installation, which give the vessels the opportunity to trade in the IMR market.
The unique X-BOW hull design allows for better transit speed and efficiency, saving time and cost for the ship owner and their clients.
Overview of vessels:
Guo Hai Min Sheng, delivered on 8 May 2020.
Guo Hai Min Xing, delivered on 8 May 2020.
Guo Hai Min Fu, delivered on 20 April 2021.
Guo Hai Min Qiang, delivered on 1 May 2021.
The ULSTEIN PX121 designs have proven to service the worldwide PSV market in the best possible way, due to an optimal combination of size and fuel efficiency.
Reduced slamming and vibrations due to the patented hull solution helps to reduce the fuel consumption to the benefit of the natural environment. The optimal motion characteristics are beneficial to the crew, and improved comfort is also considered an improvement in safety. This design meets most clients' operational expectations in terms of e.g. deck space, capacities, speed, position holding capabilities and fuel efficiency.
The contract with ULSTEIN has included basic design, engineering, and an extensive package of equipment.
The first vessel of the PX121 design started operations in 2012. The design has quickly gained popularity around the world as charterers and shipowners have discovered that the vessel meets the typical PSV requirements with a fuel efficient and competitive combination of loading capacity, speed and discharge capability.
The PX121 is a flexible platform for later conversions, such as Walk-To-Work/Offshore Wind Support, yacht support, or multipurpose support vessel, see full list. Following the Oil & Gas downturn in 2015, several owners of these vessels have later upgraded their vessels to other markets.