Platform supply vessels (PSV) are one of the single largest sources of conversions of offshore vessels in the last years. The ULSTEIN PX121 Platform Supply Vessel is a great platform for conversions, due to the energy generation capacities, open deck, and high-quality standards.
 
PX121 THE PERFECT MATCH
Ulstein is a group of companies working in ship design, shipbuilding and maritime systems and solutions. Our ship designs can be built at shipyards worldwide. Totally 30 vessels of the PX121 design have been built so far, of which 10 at Ulstein Verft and 20 at other shipyards.
The flexible ULSTEIN PX121 design has been developed as a perfect match of size and capabilities for the platform supply market, and the combination is also highly relevant to other markets and purposes, for which the design can easily be converted. The PX121 design offers the fuel efficiency and cargo capacity that is usually expected of a larger PSV, but at the cost of a medium-sized vessel. The vessel is 83m in length and 18m in the beam and has a deadweight of 4,200 tons. The maximum speed is 15 knots, and the vessel has accommodation for 24 people, while some variations have the capacity for more people. The deck area is 850 square metres but can be even larger in other variations. Details on the PX121 design.
Lately, several of these vessels have been converted into other ship types, for which Ulstein has predefined various design modules to shorten the conversion process, one example being two recent conversions performed at Ulstein Verft for Esvagt.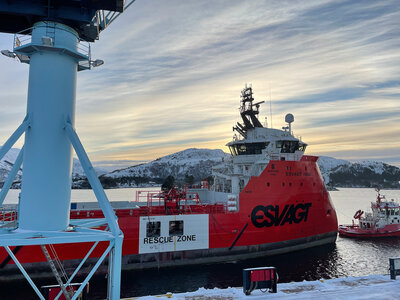 Esvagt Heidi' after her launch from the dock hall at Ulstein Verft.
Ulstein Design & Solutions supports shipping companies not only during the design and construction of the vessels but also during their lifecycle. We explore, together with the ship owners, upgrades, retrofits and conversions to get the most out of their assets. Whether it is to reduce emissions and operational costs or serve additional or new markets. This includes weight estimates, stability calculations, motion analysis, heeling tests and electricity-balance calculations, and we can also support during the sea trial phase.

Likewise, Ulstein Power & Control can assist in services such as integrating shore power and or battery systems and the corresponding retrofit on the existing onboard solutions such as power, DP and cooling.
THREE REASONS WHY PSVS ARE GREAT CONVERSION ASSETS:
1 - Sufficient energy-generating capacity to cater for the additional demand of the new functionality. Thus, there will be no need to make a major adjustment to the power plant, which would require major investments in time and money.
2 - The vessels have a large open deck. Additional functionality can be easily implemented on the top of the aft deck without requiring changes to the structural hull.
3 - Most of the tonnage built for operations in the North Sea has been built with high-quality standards (a large portion of the fleet is featured with ice class 1C), which secure a long lifetime of the vessels.
30 ALTERNATIVE MARKETS
The conversion projects are an alternative to achieving competitive and more sustainable tonnage that can be available faster and at a lower cost than newbuilds. Conversions result in substantial CO2 emission savings due to the reuse of existing tonnage.
Ulstein has explored 30 alternative market uses for existing platform supply vessels by means of conversion, upgrades and retrofit solutions.
Read more: What makes vessel conversions a sustainable option?