Many cable-laying ship owners have experienced that in adverse weather conditions, they are forced to postpone cable laying operations.
Ulstein has a long history of designing vessels for harsh conditions. All the CLV designs in the ULSTEIN SX design series are designed with the patented ULSTEIN X-BOW®. The X-BOW minimises the accelerations, leading to smoother motions and a reduction in fuel consumption in waves. It also diminishes the jerking and wear-and-tear of the cables. The hull is optimised for the vessel's actual speed range, as initial CFD studies are performed to reduce wave resistance and to verify power requirements. The X-BOW maintains its efficiency over a wide draught range from lightship and to fully loaded, which is of high importance for a cable laying vessel.
More than 100 vessels have so far been delivered with this hull design. More than 14 per cent are seismic research vessels, a segment that can be compared to cable lay vessels in having a heavy cable load and with large power requirements. The soft movements in head seas lead to higher comfort and safety. Softer movements and a bow shape that slices through the water will allow higher fuel efficiency, and thus, reduced emissions.
The Executive Vice President of one of the sailing seismic vessels has given this feedback:
"Our clients demand higher quality and more environmentally responsible services. The X-BOW hull design combined with green and future-oriented solutions helps us meet that demand with safer operations and better environmental performance."
Ulstein offers CLV designs for all types of cable laying operations:
Power cabling
One of our CLV designs which is purpose-made for power cabling, the ULSTEIN SX165, is a large modular and flexible platform. It is specially designed for power cable operations but can be adapted to all types of cable lay operations, and with the flexibility to install a cable tank and carousel either on deck or below deck if requested. The vessel design has a high deadweight capacity of up to 15,000 tonnes, enabling cable capacities up to 10,500 tonnes.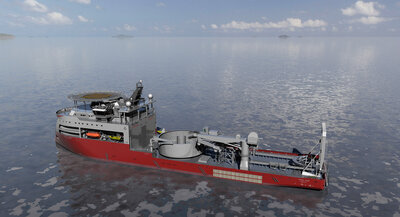 Fibre cabling
The ULSTEIN SX228 design is a large and flexible Fibre Cable Layer. This design has large deadweight and cable capacities. It has been optimised as a fibre cable layer but is also prepared for future operations with power cabling including the strengthening of an underdeck carousel in the forward cable tank. There are two cable lines inside an enclosed working area and an ROV hangar for the trencher. The vessel has a length of 121.7 metres, a breadth of 23 metres with a deadweight of 8,400t and a cable carrying capacity of 5,500t. It accommodates 80 people of which 66 in single cabins.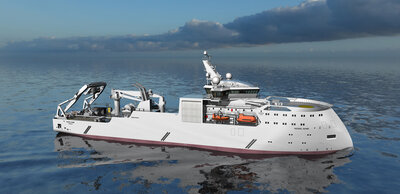 Cable repair
The SX209 is a compact and robust design, optimised for cable repair work of fibre optical telecom cables. This design has been prepared for future operations with power cable, including an underdeck carousel in one of the tanks. There are two cable lines with cable drum engines inside an enclosed area at the cable deck. The vessel has a length of 99.6 metres, a breadth of 18 metres with a deadweight of 2,800t and a cable carrying capacity of 1000t. It accommodates 76 people of which 62 in single cabins.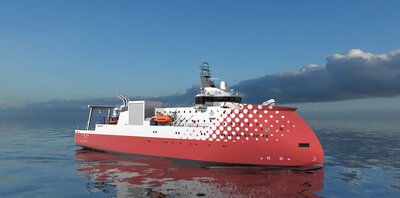 For some areas in the world, with very shallow water and or close to shore, a barge-shaped cable layer will be more suited. Ulstein also has cable laying designs for shallow waters.
 
The X-BOW advantages:
 
Comfort
More habitable
Less jerks and shock from waves
Increase comfort for crew
Smoother motions
Better quality sleep in overnight transits
The body has time to react to the motions ? reduced risk of nausea
Low hull-induced noise and vibrations
Forgetting to be onboard a ship
Safety
Less build-up effect from waves
Reduced green water, spray and wet floor hazards
Enclosed mooring area
Less wear-and-tear from whipping
Reduced jerking in cables / wear and tear
Environment
Less resistance in waves
Reduced fuel oil consumption in waves
Reduced emissions