The primary motif on the 100-krone note is the Gokstad ship, which is Norway's largest preserved Viking ship. The ship was built around 900 AD and was found in a burial mound in 1880. Behind it is an X-BOW® subsea vessel design from Ulstein.

The ability and desire to find new and better ways of movement

Source: Press release, Norges Bank
"These different vessel designs together suggest that the ability and desire to find new and better ways of movement have always been essential for coastal Norway and the country's business sector.
In the Viking Age, in vessels like the Gokstad ship, one could sail along the entire coast and abroad for trade, piracy, battle or colonisation. Today, the Viking ship gives us the opportunity to travel in completely different ways. We can sail into the past and live vicariously in the world of our ancestors.
As Norwegians, we carry with us a long and rich history of surviving along the coast and out at sea to fish, trade and transport goods ? from Saga Age merchants to today's international shipping companies."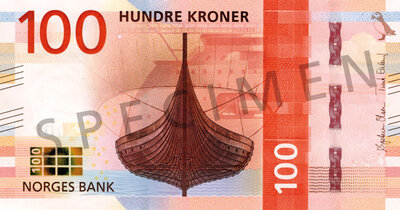 A viking ship (front) and an X-BOW vessel (behind) are joined together in the NOK 100 note, in the new series of Norwegian Krone notes taken in use from 2017.
Topic - the ocean
Eight artists were invited to participate in a contest about the new NOK note series, a contest arranged by Norges Bank. The topic was set to be 'The Ocean'. The winner, The Metric System/Terje Tønnesen, placed the X-BOW® on their NOK 100 note.

The X-BOW® hull line design is one of ULSTEIN's main contributions to marine history. The bow concept X-BOW® was launched in 2005.