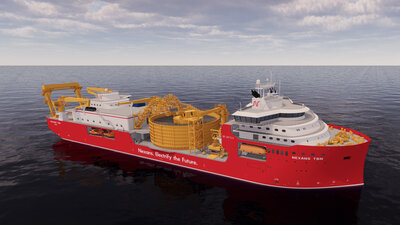 Nexans TBN
This cutting-edge cable laying vessel features a split turntable on deck capable of holding up to 10,000t of cable, an under-deck turntable with a 3,500t cable capacity, and a fibre optic basket holding 450t. 
Owned By
Nexans Marine Operations AS
Operated By
Nexans Marine Operations AS
Note: Specifications may have changed since the original completion date.
The vessel is specially designed to carry out the transport and laying of various types of subsea cables, including cable bundles as well as recovery and repair. It can perform effectively even in challenging weather conditions and boasts exceptional manoeuvrability and station-keeping capabilities.