Press release from contract signing: TWIN X-STERN: Olympic contracts offshore wind vessels (CSOV) | SX222 - Ulstein Verft
 
The keel was laid for the sister vessel, yno 318, on 31 January this year.
The two vessels are designed for the offshore wind industry and are based on the newly developed, award-winning, TWIN X-STERN hull design from Ulstein Design & Solutions AS. The TWIN X-STERN, with main propellers fore and aft, reduces the energy consumption to a new level when positioned at the wind turbines.
While the two vessels are being constructed at the hull yard, the project management, planning and follow-up, purchasing, and engineering works are underway at Ulstein. The first hull is expected to arrive at Ulstein Verft in Norway in Q4 for final outfitting.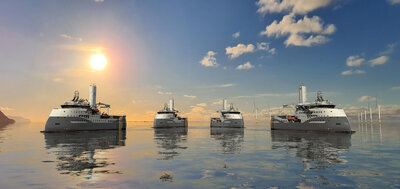 Olympic orders up to 4 CSOVs of the ULSTEIN SX222 design from Ulstein Design & Solutions AS
The vessels are based on the ULSTEIN SX222 design. They have hybrid battery propulsion and are prepared for methanol fuel to enable zero-emission operations.
 
Investing in the Norwegian maritime cluster
The Norwegian Shipping Association's annual economic barometer shows that the Norwegian shipping companies, collectively, increased their revenue by 25 per cent last year. The demand for ships and maritime services has increased and expectations of further growth are reflected in the shipping companies' ambitions to build new ships. The greatest growth in contracting plans is expected to arise in offshore service: In 2020, the total number of potential newbuilds in this segment was set to 25 ships, while this number has risen to 84 ships. A large proportion will be vessels for the offshore wind industry. The Olympic-Ulstein contract is highlighted in this year's barometer.
Olympic has a fleet that operates in the subsea service and renewable energy markets.
The CEO of Olympic Group, Stig Remøy, has been very decisive to build at a Norwegian shipyard.
"As a shipowner in the Norwegian maritime cluster, it has been important for us to invest in the Norwegian maritime cluster. With a Norwegian shipyard, ship designers, equipment suppliers and Vartdal Invest as a co-investor, this is a project with strong local ownership."
"For us, it will be crucial that the vessels are delivered on time and at the right quality, and this is what Ulstein Verft is known for."
Ambitions for a green transition
The barometer also states that the maritime industry has great ambitions for a green transition.
If Norway is to retain its position as a world leader in maritime innovation, we need forward-looking shipping companies, outstanding maritime expertise, and a service and supplier industry that is equipped to deliver the solutions we depend on to succeed. But the most important prerequisite for a strong and innovative maritime industry is ambitious politicians who facilitate growth and change through stable and competitive framework conditions.
"I fully support the above statement, says the CEO of Ulstein Group, Cathrine Kristiseter Marti, with the current challenging economic and political climate, the contracts with Olympic result from a pragmatic and good cooperation between the parties, where both parties have gone to great lengths to find good and viable solutions."
Enabling zero-emission in offshore wind
The ULSTEIN SX222 vessels have a length of 89.6m and a beam of 19.2m. They accommodate 126 people in 91 cabins. The vessels are prepared for future requirements at the offshore wind farms. The vessels are powered by diesel-electric propulsion with variable speed in combination with large battery energy storage systems. The vessels are prepared for methanol fuel and have available space for additional battery capacity for full-electric repowering when the infrastructure for such is available. The hull shape and hybrid propulsion system will ensure high operational performances and seakeeping, and substantially reduced environmental footprint.
These contracts are an important milestone also for Ulstein Power & Control AS, as they are contracted to deliver an extended power and automation package, including a large battery supply.