The state-of-the-art ship has arrived just in time for the 2023 Arctic season, where it will depart on voyages to the awe-inspiring destinations of Svalbard, Iceland, and Greenland, according to a press release from the company.
 
Søren Rasmussen, Founder and Chairman of Albatros Expeditions, was one of the first to embark on the Ocean Albatros for her pre-cruise to Longyearbyen, Svalbard.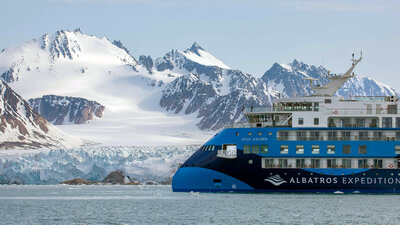 Søren commented:
"The vessel was delivered to us on 10 June 2023, and we have been onboard for the past few days. It looks like the vessel is absolutely perfect for these conditions - very stable and performs great. We are just preparing to welcome our first guests onboard, and I look forward to hearing what they think of Ocean Albatros, but I have very high expectations". 
The arrival of Ocean Albatros, alongside its sister ship, Ocean Victory, marks a new era of sustainability and environmental conservation for Albatros Expeditions. Both vessels are specially designed to reduce their carbon footprint and minimise their environmental impact, making them an ideal fleet for eco-conscious travellers who wish to explore the Arctic and Antarctica while preserving their natural wonders.
In addition to its environmental efficiencies, Ocean Albatros also features an extraordinary expedition team. Albatros Expeditions is proud to have a team of experienced and passionate expedition leaders, naturalists, photographers and wildlife experts on board. They are dedicated to creating an immersive and educational experience for guests, showcasing the magic of the Arctic and the importance of sustainable tourism.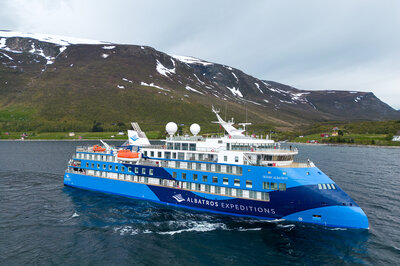 A series of expedition cruise vessels designed by Ulstein
Ordered by SunStone Ships and designed by Ulstein for construction at CMHI, these are the first China-built cruise vessels and the first cruise ships with the ULSTEIN X-BOW® feature, which helps to increase comfort for the passengers. All vessels have long-term charter agreements.
The INFINITY Class vessels are 104m long, 18m wide, and have a draft of 5.1m. They feature a passenger capacity between 130-200 and a crew capacity between 85 and 115. Six INFINITY Class new-builds have so far been delivered (Greg Mortimer, Ocean Explorer, Ocean Victory, Sylvia Earle, Ocean Odyssey and Ocean Albatros). Vessel number 7, the Ocean Discoverer, is planned for delivery in 2024. Ulstein Design & Solutions AS is responsible for the exterior design, and Tomas Tillberg Design is responsible for the interior design.