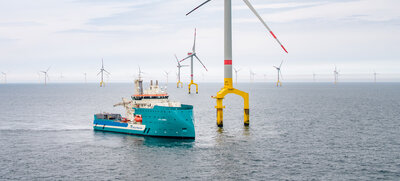 Acta Auriga
A CSV/SOV for construction support and W2W service operations. Efficient and safe in significant wave-heights up to 3m. Equipped with a telescopic motion compensated gangway system mounted on an integrated tower with height adjustment and a personnel/cargo lift. 3D motion compensated crane with 6t lifting capacity.
Operated By
Acta Marine B.V.
Additional Data
Indoor cargo area main deck
500
Outdoor cargo area A deck
500
Max deckload main deck, approx
650
Max deckload A deck, approx.
250
3D Motion compensated Crane
6
Motion compensated gangway
Hs 3
Note: Specifications may have changed since the original completion date.
Classifications:
SF,
E0,
OffshoreServiceVessel,
Strengthened(DK, HA),
DYNPOS(AUTR),
Clean(Design),
COMF(C-2,V-2),
NAUT(OC),
BWM(T),
BIS,
Recyclable,
Battery(Power)
Ship history
The vessel has been designed as a construction support vessel (CSV) and can also work as a Service Operation Vessel (SOV). The vessel can take on assignments in commissioning and construction in the offshore wind farm installation phase, and provide Walk-to-Work transfer of personnel and cargo. The vessel can also service other offshore areas such as oil and gas. Acta Auriga has been arranged for up to 120 persons on board (POB), accommodated in 80 cabins. Designed for offshore stays of approximately 30 days. Tower, crane and gangway are SMST deliveries.
Milestones
2018, 28 March: The vessel was delivered by Ulstein Verft to Acta Marine.
2018, 9 May: Started work as a Service Operation Vessel (SOV) for Ocean Breeze Energy on the offshore wind farm BARD Offshore 1, Germany. The vessel has been awarded a 3-year charter for Operations and Maintenance work.
2018, 20 June: Naming ceremony in Emden, Germany.
Read more about the project: Building Acta Auriga 
2021, 07 April: Completion of the BARD Offshore 1, O&M assignment. Read more on Acta Marine's web:
Acta Auriga successfully completed the Bard Offshore project (actamarine.com), and below:
The project has been intense especially considering the fact that Auriga has replaced two maintenance vessels that were initially performing the O&M scope on the project, as can also be seen from the following project statistics:
? 9,300 gangway connections
? 44,600 persons transferred
? 43,600 cargo pieces lifted
? 2,500x around the globe in distance sailed
? 230,000 meals served
? Zero LTI
Acta Auriga will, after a short maintenance stop at Niestern Sanders, continue to work in offshore wind in the UK as construction support vessel.
 
Get in touch

Kolbjørn Moldskred
Description

Sales Manager Newbuild

Affiliation

Ulstein Verft AS

Lars Lühr Olsen
Description

Managing Director

Affiliation

Ulstein Verft AS