Acta Centaurus
Walk-to-work vessel for the offshore wind industry. Efficient and safe in significant wave-heights up to 3m. Equipped with a telescopic motion compensated gangway system mounted on an integrated tower with height adjustment and a personnel/cargo lift. 3D motion compensated crane with 6t lifting capacity.
Built by
Ulstein Verft AS
Owned by
Acta Marine B.V.
Designed by
Ulstein Design & Solutions AS
Ordered by
Acta Marine B.V.
Operated by
Acta Marine B.V.
Principal dimensions
Length:

93.4 m

Beam:

18 m

Dead weight:

3200 tonnes

Draught (max):

6 m

Speed (max):

13 kn

Accommodation:

120 POB

Deck area:

500 sqm
Note: Subject to selected variant configuration
Capacities
Fuel oil, cargo & domestic:

980 cbm

Fresh water:

800 cbm

Ballast water:

2.140 cbm

Sewage:

170 cbm
Classifications
DnV +1A, SF, E0, Offshore Service Vessel, Strengthened (DK, HA), DYNPOS (AUTR), CLEAN (DESIGN), COMF(C-2, V-2), NAUT(OC), BWM(T), BIS, W2W, SPS, HELDK
Ship history
6 February 2018: Contract signing
15 February 2018: Steel cutting
13 September 2018: Ship name revealed
8 December 2018: Hull arrival
17 February 2019: Helideck lift
6 April 2019: Sea trial start
30 April 2019: Delivery
22 May 2019: Naming ceremony
May 2019:
Acta Centaurus' first job has already been successfully completed by providing the Dutch energy company ONE-Dyas Walk-to-Work support for a short maintenance campaign on the M7 Gas platform in the Dutch North Sea. "All systems have shown excellent performance. With great confidence, we move forward to her next assignment" says Rob Boer, Managing Director at Acta Marine.

Acta Centaurus has been chartered by MHI Vestas Offshore Wind to support the installation and commissioning of 33 V164-8.4 MW MHI Vestas turbines at the Deutsche Bucht offshore wind farm in the German Exclusive Zone.

November 2019:
Acta Centaurus has commenced a scope for Van Oord at the Norther offshore wind farm offshore Belgium. The scope is expected to last until the start of 2020. Thereafter, she will assist MHI Vestas Offshore Wind; For the Borssele III and IV Offshore Wind Farm project, the vessel will assist with the commission of the 77 V164 9.5 megawatt turbines produced by MHI Vestas from Q2-2020 till Q4-2020 / Q1-2021. Upon completion of the project the total installed capacity of the Borssele III and IV Offshore Wind Farm will be 731.5MW, which enough to power some 825,000 households. Base-port of the Acta Centaurus will be Flushing, The Netherlands.
August 2020:
The Acta Centaurus will mobilise to the Moray East offshore wind farm at the start of 2021. The vessel will provide support during the construction phase of the wind farm located offshore Scotland.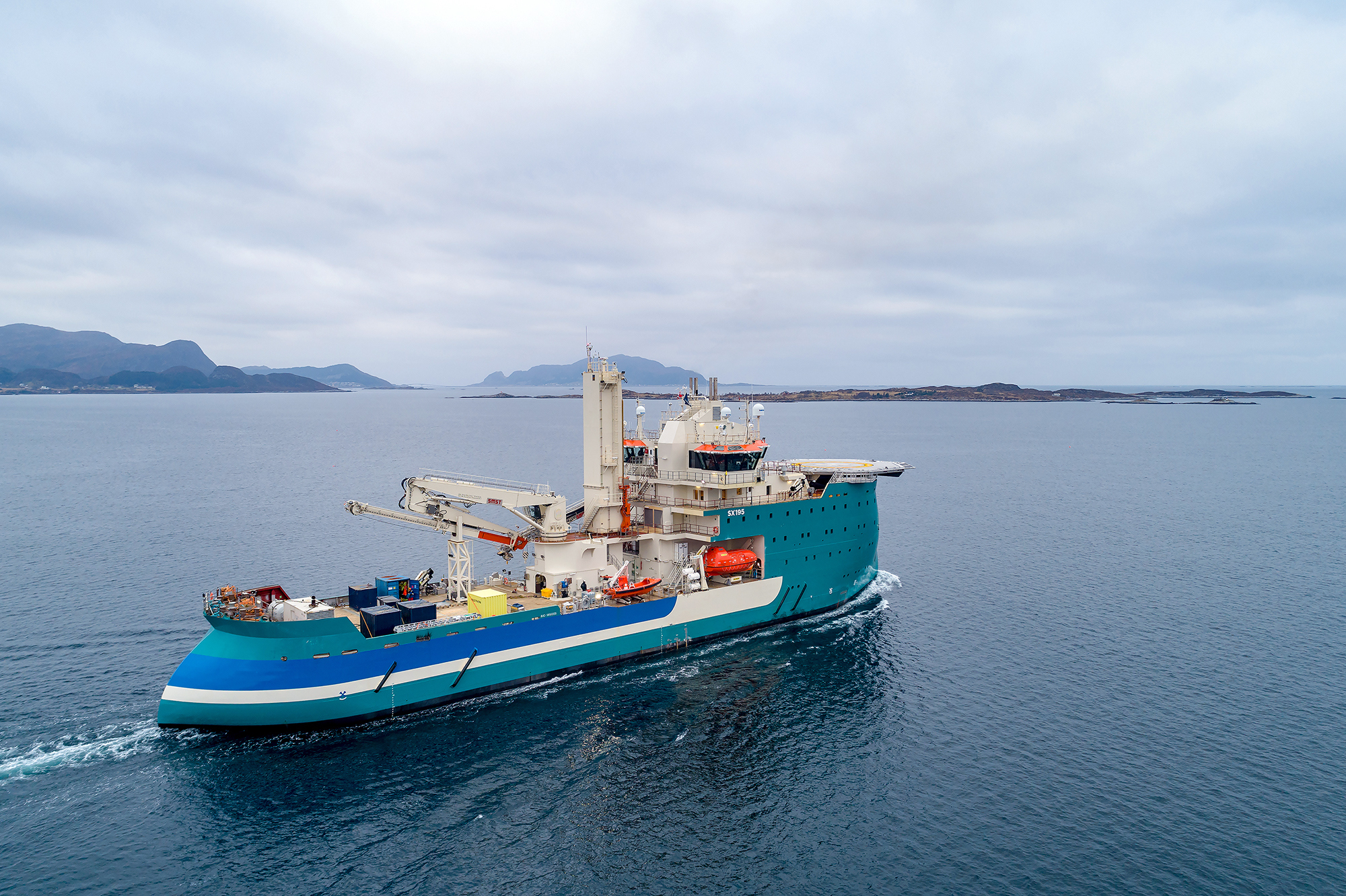 The 'Acta Centaurus' at sea trial. She is sister vessel to the 'Acta Auriga', that was delivered by Ulstein Verft in 2018.
Please contact us for more information