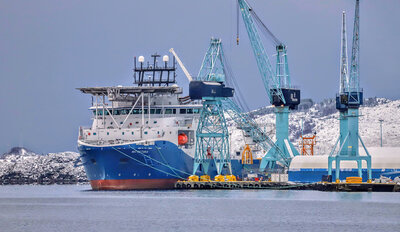 The cable lay vessel NKT Victoria at Ulstein Verft for upgrade and maintenance. Photo: Vikebladet Vestposten / Ole-Otter Høgstavoll
"The work that will be required will involve several of the production units at the yard, and we have dedicated resources to work on this for approx. three months," says sales manager aftermarket Bjørn Harald Norvik at Ulstein Verft.
The 'NKT Victoria' was built at the neighbouring yard Kleven Verft in April 2017 and delivered to the cable lay company NKT. This time the vessel has returned to the town where it was built for an upgrade and maintenance assignment at Ulstein Verft.
"We appreciate the trust given to us by NKT and Remøy Management on this assignment, and it fits well with other ongoing projects at the yard", states Norvik.