Ulstein's offshore wind history
Ulstein's entry into the offshore wind market started with a new installation concept for wind turbines, the F2F (Floating to Fixed) concept back in 2006. This was followed by our first designs for Service Operations Vessels (SOVs)/Installation Support Vessels (ISVs) and foundation installation vessels (FIVs).
ULSTEIN provides ship designs, system solutions and services for efficient and reliable marine operations. This includes ship designs for all cycles in the life of the offshore wind farms, with solutions for environmentally friendly vessels to serve the various stages: Planning & development, Substructure installation, Installation & Commissioning, Operations & Maintenance, and Decommissioning & Repowering.

Introduced in October 2020, Ulstein's second hydrogen hybrid design for the offshore wind industry, the ULSTEIN J102 zero-emission wind turbine installation vessel (WTIV), can operate 75% of the time in zero-emission mode. Using readily available technology, the additional cost is limited to less than 5% of the total CAPEX.

Planning & development
This stage needs survey and IMR (Subsea/Inspection Maintenance Repair) vessels. These vessel types are closely linked to our offshore portfolio of vessels, of which we have developed numerous projects, see reference list.
Substructure installation
Survey and IMR vessels, cable laying vessels, rock installation, floating installation and handling equipment are all part of this stage in the establishment of an offshore wind farm.
Cable lay
Ulstein has delivered several cable laying vessels, and the most recent 2021 newbuild, the state-of-the-art CLV, 'Nexans Aurora', has been constructed at Ulstein Verft, Norway, for Nexans.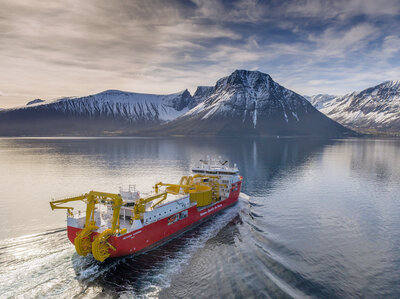 Rock installation
Subsea rock installation (SRI) vessels are widely used in the offshore industry, stabilising and protecting subsea pipelines, cables and other structures at the sea bed. For the offshore wind industry, SRI vessels also lay protective coverings of rock around turbine foundations, to avoid scouring. Ulstein has a proven track record in developing these highly specialised vessels, the most recent reference being the highly innovative DP3 fall-pipe vessel 'Bravenes'.
In 2020, Ulstein was awarded a contract by Great Lakes Dredge & Dock to design the first U.S.-flagged Jones Act-compliant, inclined fall pipe vessel for subsea rock installation. The vessel is critical in building the future of the U.S. offshore wind industry, including establishing a U.S.-based rock supply chain network.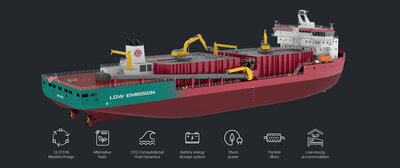 Monopile installation
The 'Seaway Alfa Lift' semi-submersible vessel matches the future requirements of the offshore wind industry, allowing her to transport and install up to 10 x 1,500t ultra-large jacket foundations or 11 x 2,000t XXL monopiles plus transition pieces for the largest anticipated Wind Turbine Generators. The vessel is currently under construction at China Merchants Heavy Industry (CMHI) in China.
Three-in-one: High lifting capacity, large deck and green power solutions
There is a shortage of specialised heavy lift vessels needed to install the increasing number of larger, next-generation wind turbines. This jeopardises the offshore wind farm realisations. The HX118 heavy lift vessel design for offshore wind foundation installation is a proven, off-the-shelf design which can help to close the foundation installation gap. Developed to efficiently handle the next-generation foundations, monopiles as well as jackets, the design features a 5,000mt main crane with large lifting heights and a large, strong open deck. Methanol-powered generators, an optimised hull design and smart integration of battery systems ensure low emissions during operations and when in port.
8,000t foundation installation vessel
To provide for tomorrow's needs in offshore wind, Ulstein has expanded its portfolio with the ULSTEIN HX122 design. The design features an ULSTEIN X-BOW® and an ultra-high-capacity crane, enabling operators and contractors to efficiently transport and install monopiles or jacket foundations up to 5,000 tons.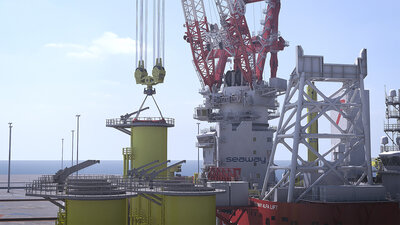 Installation & Commissioning
Service operation vessels and jack-up installation vessels are vessels for this stage.

X-JACK
Ulstein has designed the X-JACK concept for jack-up installations, and lately, a hydrogen version.
Awards and nominations
Our first two SOV/ISV deliveries were awarded the 'Offshore Renewables Award', in 2014 (Siem Moxie - now: Seaway Moxie) and 2017 (Windea La Cour). Our X-STERN® solution was awarded the Next Generation Ship Award in 2015, and in 2017, the SOV 'Windea La Cour', the first X-STERN vessel, won the Offshore Renewables Award.
The TWIN X-STERN has been nominated for the Innovation of the Year Award 2023, while the TWIN X-STERN CSOV shipbuilding project together with Acta Marine has been nominated for the Offshore Renewables Award 2023.
'Seaway Moxie' ISV operates as a duo

The 'Seaway Moxie', an ULSTEIN SX163 design delivered in 2014, is operated by Seaway Offshore Cables, a Subsea7 company. She often works as part of a duo, in which Seaway Moxie operates as an ISV, together with the cable-laying vessel Seaway Aimery. The Seaway Moxie's key features are a 3D motion-compensated telescopic crane and an active motion-compensated personnel transfer gangway, permitting the safe transfer of work crews in significant wave heights up to 3.0 m. Thanks to the ship's active roll stabilization capabilities, offshore works can continue even in challenging sea and wind conditions.
SX175/SX195 designs for BS Offshore
Two SOV vessels of the SX175 design have been developed for BS Offshore (Bernhard Schulte), introducing the X-STERN feature. The 'Windea La Cour', delivered in 2016, received her first contract for the Gemini Offshore Wind Park offshore the Netherlands. The 'Windea Leibniz', delivered in 2017, was assigned to service the two Vattenfall offshore wind installations, Sandbank and DanTysk offshore Germany. The two vessels have an active motion-compensated 'Walk to Work' (W2W) gangway, which is used for the safe transfer of maintenance teams to and from the individual turbine foundations in significant wave heights of up to 2.5 m or more.
Bernhard Schulte later ordered a third SOV vessel, the WINDEA JULES VERNE, of the larger SX195 design, delivered from Ulstein Verft in 2020. This vessel was contracted to support the maintenance work of GE Renewable Energy at the German wind farm Merkur Offshore. In 2023, the vessel completed an upgrade at Ulstein Verft. With an increase of single cabins for charterers from 40 to 60, the vessel has transitioned from an SOV to a CSOV. Additionally, the yard has installed one extra pedestal on the stern for Baltic Sea operations to complement the existing pedestal for North Sea use.
SX195 for Acta Marine
An SX195 Construction Support Vessel, the Acta Auriga, was contracted by Acta Marine and delivered in 2018. The SMST motion-compensated gangway has integrated elevator and crane functionality. The vessel can perform 3D compensated lifts with its 6t 3D crane and has accommodation for 120 people. A sister vessel, Acta Centaurus, was delivered from Ulstein Verft in 2019. Unlike its sister, this vessel also features a helideck.
First dedicated Chinese SOVs
In 2022, the ZPMC shipyard, China, and Ulstein Design & Solutions AS signed the ship design contract on two types of Service Operation Vessels (SOVs) for Shanghai Electric Windpower Group. These are the first purpose-made SOVs designed for the Chinese Offshore Wind industry, and they are based on the X-BOW and the X-STERN.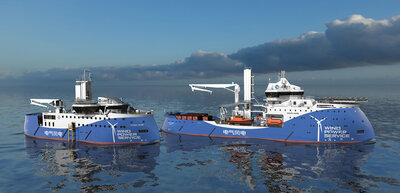 Construction in the U.S. possible

Ulstein holds an Approval in Principle (AIP) for its proven Service Operation Vessel (SOV) design, the ULSTEIN SX195, from ABS - the American Bureau of Shipping.
TWIN X-STERN contracts
2022 saw the first contracts signed for TWIN X-STERN CSOVs. Acta Marine ordered the two first vessels for construction at Tersan. The design contract also includes options for two vessels, all four of the ULSTEIN SX216 design. The vessels will be delivered with dual-fuel methanol/diesel power generators. Olympic ordered two firm contracts and two options for construction at Ulstein Verft. The vessels have hybrid battery propulsion and are prepared for methanol fuel to enable zero emissions. They are based on the ULSTEIN SX222 design. Ulstein has also entered into a cooperation with James Fisher on the 'Diamond SOV', an ULSTEIN SX221 concept, which is expected to support the UK's target of 50 GW of offshore wind energy by 2030.
Operations & Maintenance
Once more, at this stage vessels for Service Operations, Survey and IMR and cable laying vessels are relevant types of vessels.
Decommissioning & Repowering
Floating installation and jack-up installation vessels are vessels for the decommissioning phase.